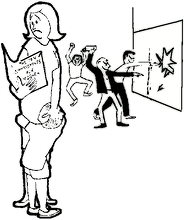 Have you considered the advantages of business property insurance? Here's why: On July 29th in Hamilton City, California, a small business which combines a Shell gas station and a Subway Sandwich Shop was robbed and vandalized, costing thousands and thousands of dollars in stolen and damaged stock. Because police were understaffed at the time the alarm went off at 2:38 a.m., they were unable to respond to the scene until after 3 a.m., allowing the criminals ample time to smash and grab. Police found the glass front door shattered. Items missing from the store included alcohol, food, tobacco products…and Tylenol Unfortunately, the thieves and vandals weren't the only ones suffering from a major headache the next day. In the end, officials estimated the loss to be considerable. At least $13,000.
Business Property Insurance Can Help You Avoid Expensive Headaches
Why business property insurance? It will cover you in cases like the one described above, covering you against loss from fire, theft and vandalism. It provides for rebuilding and repair costs and allows you to continue your normal operations with as little interruption as possible. These costs are often staggering, and many businesses cannot afford them, forcing them to shut down. The reasonable alternative is to talk with us about fitting a tailor-made insurance policy to you and your business.
What else does it cover? In a nutshell, it actively guards all of your assets, including your property and its contents. It's particularly valuable if you own the entire building which houses your company. We can help you decide whether you need a "named-perils" policy, which is restricted to coverage of named items within the policy, or if an "all-risk" policy suits your needs.
If you do not already have a business property policy for your business, contact Sutherland-Scherff today to discuss your options.
Starting up and running a business is an exciting time in anyones life. It can also be a challenging and stressfull experience. Making sure you have the right insurance coverage to protect against all possible claims can be just as much of an experience.
Download our free whitepaper on Business Owners Policy: 5 Myths & 5 Tips