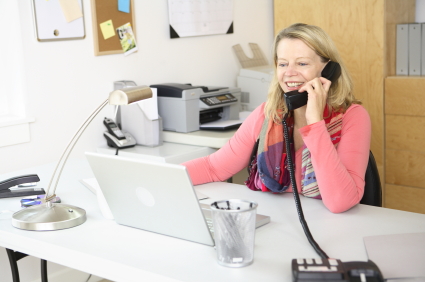 Operating a business from your home can be both rewarding and profitable. Nothing better than being able to crawl out of bed, walk down the hall and start working. What many home based businesses don't realize, however, is that the vast majority of homeowners policies do not cover you when you file a claim related to your business. Like any business, a home based business owner faces many potential property and liability claims. Consider these common scenarios:
You operate a small e-bay business and have an inventory of $10,000 and computers worth $5,000. A fire in your home destroys or damages both. Your homeowner's policy may cover $500-$2,500 in business personal property. The balance would not be covered. A business owners insurance policy would also cover you for loss of income as a result of this fire.
You are at a trade show and someone trips and falls over your display or you have a customer come to your home where he slips and falls. A homeowner's policy excludes business liability so you would have no coverage.
You operate a home based bakery and a customer claims he broke a tooth or became sick because of your product. There is no coverage for this type of claim under your homeowner's policy.
3 WAYS TO COVER YOUR HOME BASED BUSINESS
ENDORSEMENT TO YOUR HOMEOWNERS POLICY. Depending on the type of business you operate, some companies will endorse your homeowners policy to include some business personal property and business liability coverage. Coverage is limited however and is only offered to a business with minimum loss potential.
HOME BASED BUSINESS INSURANCE POLICY. Also sometimes called an In Home Business Insurance Policy, this is a policy that is designed specifically for home based businesses. It provides coverage for losses or damage from business activities conducted in your home or off-site at another location. That means your coverage can extend beyond the boundary of your home to include protection for your business property while you are in transit and provides liability coverage when you are performing business-related activities at a trade show. It is a very competitively priced policy, starting as low as $150 per year. Although this policy is broader in coverage and is available to more types of business than the homeowner's endorsement, there are many businesses that do not qualify for this policy.
BUSINESS OWNERS POLICY (BOP). A business owners policy is the most comprehensive solution to insuring your business. This is what a full-time business owner with a store front will often purchase to insure their business. The coverage on a home based business insurance policy and BOP are very similar. The main differences are that the BOP may offer higher limits and broader eligibility. The premium starts as low as $500-$1,000 depending on the limits of coverage and type of business.
By not having insurance, home based business owners are at risk for significant financial losses such as fire, theft, loss of income and liability - losses that can devastate any business.
For more information about California home based business insurance contact Sutherland-Scherff Insurance Services, Inc.
Read More