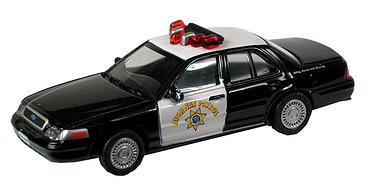 Nothing against these popular car manufacturers, but the statistics show that Californian's favor these car brands just as much as car thieves do! The Honda Accord, Honda Civic and Toyota Camry car models have topped the California state lists of the most popular stolen vehicles in 2010 according to data that was published recently by the National Insurance Crime Bureau.
Central Valley car theft is the highest
These statistics are especially important to those of the Central Valley. The NICB said in June that the areas of Fresno, Stockton, Sacramento and Modesto were among the worst in the US for sheer numbers of stolen vehicles. Fresno is the worst area for car theft, with 7,559 thefts in 2010. Strikingly, this equates to 8.12 car thefts per 1000 residents. Modesto ranks second with a theft rate of 7.54 vehicles per 1,000 residents, or 3,878 car thefts.
The NCIB spokesman Frank Scafidi has noted that across the U.S. car thefts were down in 2010 by 7.2%, although California is still the worst state for car thefts. Scafidi puts it down to population and the nature of California, bit as we are all aware, the car is king. "There are just so many vehicles in California and so many people; that is a big part of it" he said.
1991 Honda Accord wins "most stolen" prize
The most-stolen vehicles in California in 2010 were the 1991 Honda Accord, 1995 Honda Civic, 1989 Toyota Camry, 1994 Acura Integra, and the 1994 Nissan Sentra. The 1991 Honda Accord sticks out as the most-stolen vehicle in California of all years of Honda Accords.
These figures give interesting insights to those considering car insurance, as factors such as the vehicle model; age and primary location go into determining the insurance premium.
The NCIB also noted that older models of cars and light trucks are popular to steal because their parts are of relatively high value, and older vehicles are less likely to be insured against theft. Newer vehicles are often fitted with advanced anti-theft and locating technology, which is a deterrent to car thieves.
For valuable advice on selecting the right vehicle for the best premium, contact Sutherland-Scherff today.
Read tips on getting Cheaper Auto Insurance