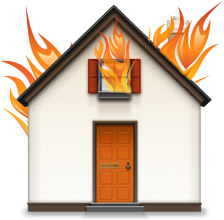 In California, we take pride in our homes. Especially when it comes to protecting them, we want to do everything we can to insure our homes from as many risks as possible. Unfortunately, every year, California fires destroy property and even take lives.
Why is fire coverage important in California?
So why is fire insurance so important? Nobody wants to see their cherished home burn down along with all of their memories. Insurance won't prevent a fire or bring valued personal belongings back, but it will help to replace them. Unfortunately, California has a high rate of brush fires due to our often dry climate, and this puts homes at much higher risk of fire damage than homes in other states.
Currently a brush fire is raging in the northeastern part of San Diego County. The blaze has burned through 11,000 acres already, after being sparked on Los Coyotes Indian Reservation last Thursday. The blaze has put 1,100 firefighters to work so far. Residents of Coachella valley are keeping a watchful eye over the progress of the blaze. If the fire gets too close then homeowners will be forced to evacuate their homes. Let's hope they all have adequate home insurance coverage.
San Bruno gas explosion destroys 50 homes
Accidental fires can happen too. In San Bruno last September, a broken gas line that sent flames through the neighborhood triggered a massive explosion. The fire destroyed 50 houses and took one life. The explosion was heard for miles around and shot a fireball into the air up to 1,000 feet. The nature of California homes means that the timber-framed structures get eaten up in a matter of minutes by flames, so after this explosion, these homes did not stand a chance.
At Sutherland-Scherff, we're homeowners too. That's why we are dedicated to helping California homeowners through making their home insurance decisions. A typical insurance package will include cover for the physical structure of your building; it's replacement costs, personal possessions and additional living expenses in the even of losses covered or natural disasters.
Contact Sutherland-Scherff today for complete guidance on California homeowners insurance.
To get the best home insurance quote for your property, you need to be prepared. If you have all the right facts to hand before you start contacting insurance agents, you'll get a more accurate quote in less time. But are you aware of all the questions they could ask you?
Download our home insurance guide and you will be prepared with all the information an insurance agent will need, as well as important questions you should ask the agent.