Uninsured Motorists insurance is an important coverage that is typically included in an auto insurance policy but is rarely talked about. When you purchased your auto insurance you probably discussed your liability limits and what comprehensive and collision deductible you wanted to include on your policy. But what about Uninsured Motorist insurance? How did you determine your limit?
When you purchase Uninsured Motorist coverage you should consider the following:
What Does It Cover?
Uninsured Motorist insurance refers to 2 different types of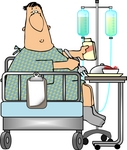 coverage:
Uninsured/Underinsured Motorist Bodily Injury
Uninsured Motorist Property Damage
In this blog we will only be discussing Uninsured/Underinsured Motorist Bodily Injury.
If you are involved in an accident that is not your fault and you or your passengers are injured, typically the other party's insurance would pay for your medical bills, loss of wages and pain and suffering. If the other party does not have insurance, or has inadequate limits, your policy will pay for this under your Uninsured/Underinsured Motorists coverage. It would also provide coverage if you are involved in a hit-and-run accident.
What Limits Are Available?
Uninsured Motorists is written with 2 limits. The amount of coverage offered per person and the total amount the company will pay per accident. The minimum limit available is $15,000 per person and $30,000 per accident ($15,000/$30,000). Limits are also available for $25,000/$50,000, $30,000/$60,000, $50,000/$100,000, $100,000/$300,000 and higher. Your uninsured motorists limit cannot be higher than your bodily injury liability limit.
How Do I Determine What Limit is Best for Me?
I often suggest to my clients that they ask themselves, "what if I was injured in a car accident and found myself in the hospital for 3 months – how would that affect me financially?" Minor injuries that put you in the hospital for 3-4 days can run up a medical bill of $15,000 to $20,000. Do you have good medical insurance that will pay for this? Do you have disability insurance? What if you are permanently disabled? We recommend that you carry Uninsured Motorist limits equal to your liability limits. Obtain at least as much protection for yourself and your family as you purchase for the protection of others.
The most recent study completed by the Insurance Research Council (IRC) found that nationwide, 14% of all drivers are uninsured. In California they reported that 18% are uninsured. With the recent economic downturn they expect a sharp rise in the uninsured motorist rate. We recommend that you review your current limits to be sure you are adequately protected.