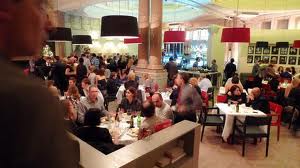 In today's economy we are all taking a closer look at our expenses. Restaurant insurance costs are no exception. Here are some simple steps you can take to reduce the expense of your CA restaurant insurance.
1. Rate Tenant's Improvements and Betterments as Building Coverage. As part of your business owners insurance policy you have coverage for your business personal property and your tenant's improvements and betterments. Typically both coverages are included together in the business personal property limit. This is a proper way to do it but it is not the BEST way. Tenant's improvements and betterments are actually part of the building and most companies will rate it as building coverage. The rate for building coverage is lower than the rate for business personal property. It will reduce your premium if you determine the limit for each coverage separately.
2. Increase Your Deductible. Policies are typically written with deductibles ranging between $500 to $1,000. Higher deductibles are available. Naturally, the higher the deductible the higher your discount. Just be sure not to pick a deductible that is more than you can afford to pay if you have a claim. Remember, if you have a $5,000 deductible and have a fire claim, you will be responsible to pay the first $5,000 before the insurance company pays anything. With most policies the deductible applies only to property claims, not liability claims.
3. Loss Control - Controlling losses protects our good name and helps to keep your premiums low. Visit our website for a free loss control check list to help keep your restaurant safe and loss free.
4. If your building is sprinklered or if you have fire and/or burglar alarms, check with your insurance agent to be sure you are receiving full credits for these systems.
5. Liquor Liability - If you serve liquor you should absolutely include this coverage as part of your business liability insurance. The premium for this coverage is based on your liquor sales. Your insurance agent should make sure each year that the insurance company is basing the premium on your current liquor sales. If your sales are down your premium should be too.
6. Insurance companies apply credits to your policy if they feel there are features about it that make it a better risk than most restaurants. If you feel your restaurant and loss control features stands out in the crowd be sure to tell your insurance agent. You may qualify for more discounts.
Your insurance agent should meet with you at least once a year to make sure your CA restaurant insurance program still meets your needs and it is competitively priced. They should review your limits, make sure the company is using accurate payroll and sales figures, and be sure you are receiving all the discounts available to you. Contact Sutherland-Scherff Insurance for a complete, no cost review.