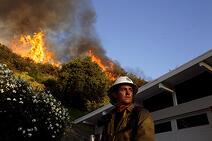 California residents can sympathize. Earlier this week, residents of Pawnee County in Oklahoma endured a hellish wildfire that caused at least one death, destroyed 40 homes and did an estimated $20 Million dollars worth of physical damage. The emotional toll from this wildfire is incalculable, and we hope all the homeowners involved had adequate home insurance coverage.
August wildfires bring devastation to homeowners
The fire started last Sunday, August 13th and quickly raged out of control. Eventually, multiple fire crews were able to harness the blaze, but not before it dealt its destruction to the mostly rural, working-class areas.
We California residents are far too well acquainted with the devastation that wildfires bring. The Oklahoma Insurance Commissioner, John Doak, said that many homeowners there did not have fire insurance. This should serve as a wake up call for those of us in California who do not have fire insurance. You can usually purchase it two ways: either as a separate purchase or as a "named peril" under your homeowner's policy. Be sure to consult your agent or broker and find the best path forward for you and your family.
Wildfires increase while temperatures soar
Thus far in 2011, we have had 2,942 reported fires across 30,205 acres of land. That's over 700 more fires than occurred by this time last year burning nearly twice as much acreage. Furthermore, CAL FIRE has announced that though California saw a median increase of rainfall amounts over June, it created more brush. With temperatures soaring so high, drying out can occur quite quickly. It pays to be prepared for every eventual contingency imaginable, and a sound fire insurance policy is a great place to start.
The following are a few more tips on what you can do to protect your home in the event of a wildfire:
Maintain 200 feet of Defensible Space
Clear all needles and leaves from roofs, eaves and rain gutters.
Trim branches six feet from the ground.
Use trimming, mowing and power equipment before 10 a.m. and after 6 p.m.
Landscape with fire resistant plants.
Use fire resistant building materials on your home.
For further advice on wildfire protection for your home, contact Sutherland-Scherff today.