RV Checklists: Be Prepared For Everything
Preparing for a long vacation on the road can take a lot of time. Planning your route, where you will stay and how long you will go for can be very time consuming.
Although this is true, nothing is more time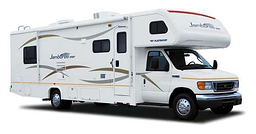 consuming than packing and preparing everything for the trip. Between clothes, food, medical and mechanical supplies and all the miscellaneous things that you will need to have a successful trip you can get lost in what you do have packed and what you don't have packed.
We have compiled an extremely comprehensive group of checklists that you can work from to ensure that you have everything to make your journey the most enjoyable and worry free that it can be.
The checklists included are:
Bed & Bath
Clothing
Kitchen Supplies
Miscellaneous Items
Tools
You will probably not need everything on each list so we recommend that you go through these checklist and pick out the items that are neccessary to you and your trip.
Fill out the form opposite to get our free whitepaper RV Checklists: Be Prepared For Everything.